Stroke - Paralysis treatment
1. What is stroke (paralysis)? What is the cause of stroke?
As a medical definition, stroke refers to the sudden damage to the brain due to circulatory reasons. In Turkish, it gains the same meaning as paralysis in colloquial language, and is defined as the inability of movement and sensation on one side of the body. Stroke or paralysis may results from the occlusion of the brain vessels (ischemia), clotting in the brain (embolism) and cerebral bleeding (hemorrhage)
2. What are the symptoms of stroke (paralysis); how long does it last?
In addition to partial or complete loss of strength, loss of sensation, numbness, burning, tingling may occur in the affected muscles. Impairment of speech, aggravation of language and loss of consciousness can be seen in stroke. In the cases of stroke due to the problems of central nervous system, involuntary contractions and abnormal reflex movements can be seen in the muscles after a certain period of time. In the cases of stroke associated with the peripheral nervous system, the muscles usually remain loose and there is severe muscle wasting. In this process, in the case of spinal cord paralysis, the control of bladder and bowel may be lost, and blood pressure irregularities and disorders may occur in the adjustment of the body.
3. Can stroke (paralysis) be treated?
Yes, full recovery is possible after a stroke (paralysis). The vast majority of patients with stroke benefit from physical therapy and rehabilitation. Some patients may experience a mild recovery. Outpatient follow-up and home program may be sufficient. On the other hand, some patients may benefit less from the treatment as they suffer severe brain injury. In the treatment of stroke, early and comprehensive rehabilitation is critical for the maximum benefit from the rehabilitation.
4. What are the methods of treatment for stroke (paralysis) ?
In the treatment of stroke (paralysis), comprehensive rehabilitation program includes Physical Therapy activities such as walking, hand-arm use, self-care, talking, swallowing-eating and ergotherapy – occupational therapy.
Robotic rehabilitation and robotic physical therapy (robotic bed, robotic walking and robotic hand-arm rehabilitation) to be performed by the physical therapy and rehabilitation clinic makes a great contribution to the patient during the recovery period.
5. Where is the treatment of stroke (paralysis) administered?
For a successful treatment of stroke, a neurorehabilitation and robotic rehabilitation center under the supervision of a physical therapy and rehabilitation specialist will be an appropriate option. Such a clinic consists of a large team such as a physiotherapy and rehabilitation specialist, a physiotherapist, an occupational therapist, a rehabilitation nurse, a physical therapy technician, a robotic rehabilitation technician, an occupational therapist and a swallowing-speech therapist.
6. TREATMENT OF STROKE (PARALYSIS) IN Istanbul Rehabilitation Academy
3-7 hours of rehabilitation every day
24-hour medical supervision
Individualized treatment program for the patients
Daily follow-up by the physical therapy and rehabilitation specialist
Consultation to the specialist physicians in the fields of neurology, brain and nerve surgery, internal medicine, cardiology, psychiatry and infectious diseases
Follow-up by the psychologist and dietitian support every 15 days
One nurse for every 4-6 patients (dedication of a permanent nurse when necessary)
Robotic Training for Early Walking and Mobilization
Robotic Rehabilitation for Walking + Virtual Reality
Robotic Rehabilitation for Hand-Arm + Virtual Reality
Physiotherapy
Neurophysiological exercises
Swallowing assessment and therapy
Speech therapy
Pulmonary Rehabilitation
Computerized training for balance and prevention of fall
Tracheostomy management (such as removal and care)
Nasogastric catheter and PEG management (such as opening, removal and care)
Botulinum toxin injection (with EMI or Ultrasound)
In cases where emergency medical intervention is required, the Blue Code System is activated in the hospitals we work with, and the patients are followed up in the intensive care unit.
In neurological rehabilitation, the overall medical condition and physical therapy capacity of the patient should be well-evaluated. There is one formula to address the recovery of the period at the early period: USE or LOSE.
In other words, intensive and comprehensive physical therapy is very important during this period. However, the treatments to be administered can also cause extreme fatigue. For this reason, it is very important to have a physical therapy and rehabilitation specialist for daily evaluation and the entire team to plan their activities according to the evaluation of the specialist.
7. What is a usual day of patient like in comprehensive treatment?
The treatment program for the patient is determined by the physician on a weekly basis, according to the rehabilitation potential and condition. Treatment can be administered in one day at all of the treatment stations listed below.
7.1. Daily Sample Treatment Program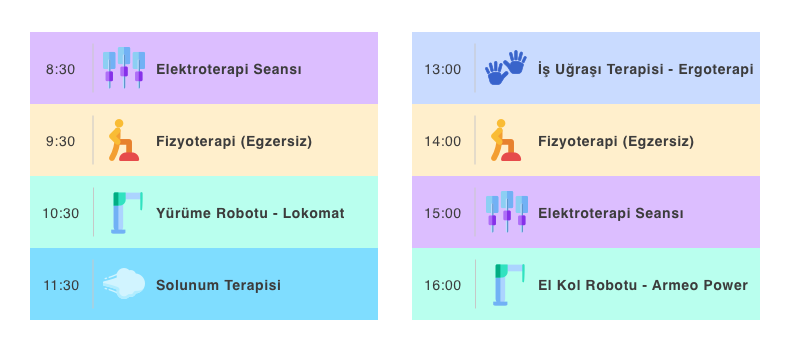 For appointments or questions, fill out the form below and we will contact you as soon as possible.