Hocoma is a Swiss company and the leading company in robotic therapy in the field of physical therapy and rehabilitation. Robotic walking and robotic hand-arm systems of Hocoma are used in our clinic in order to provide services at the level of international standards.
The major devices are Erigo Pro Early Walking Robotic Bed System, Lokomat Pro with Free D Walking Robot, and Armeo Power with Manova Robotic Hand-Arm System.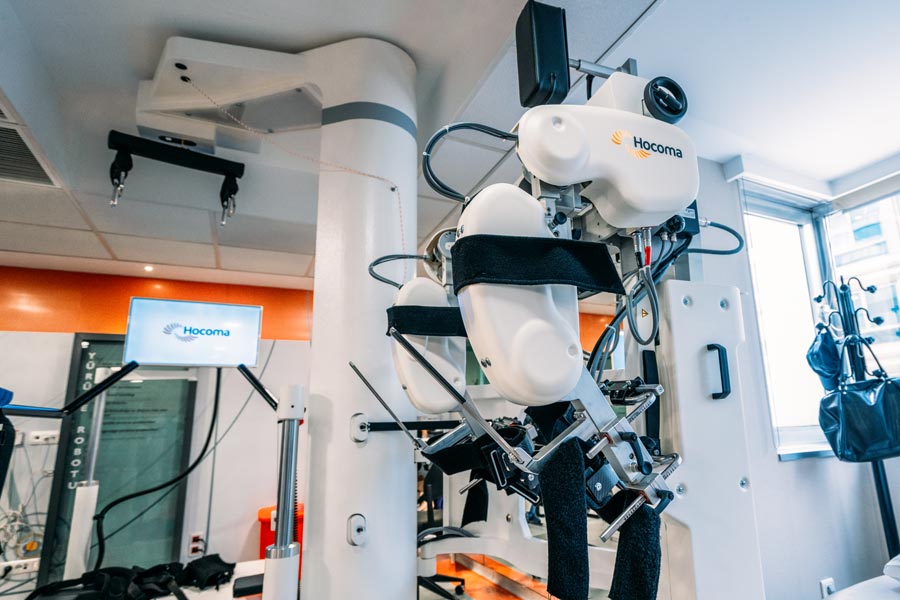 In addition, Alter G Anti-Gravity Walking System, CSMI (Cybex) Humac Norm Isokinetic Test and Exercise System, and Computerized Balance Training System are also available in our clinic in order to support the effectiveness of these robotic therapy systems. They are actively used in the physical therapy and rehabilitation processes of the patients.
Robotic Walking, Computerized Balance Training and Robotic Hand-Arm Systems are used in an integrated way with virtual reality. Thus, the exercises become meaningful and entertaining for the patient. Robotic technologies allow exercises to be applied safely and intensely from an early stage. These systems also ensure that the progress of the patient is recorded and followed up regularly.
1. Hand-Arm Robot | Armeo Power with Manova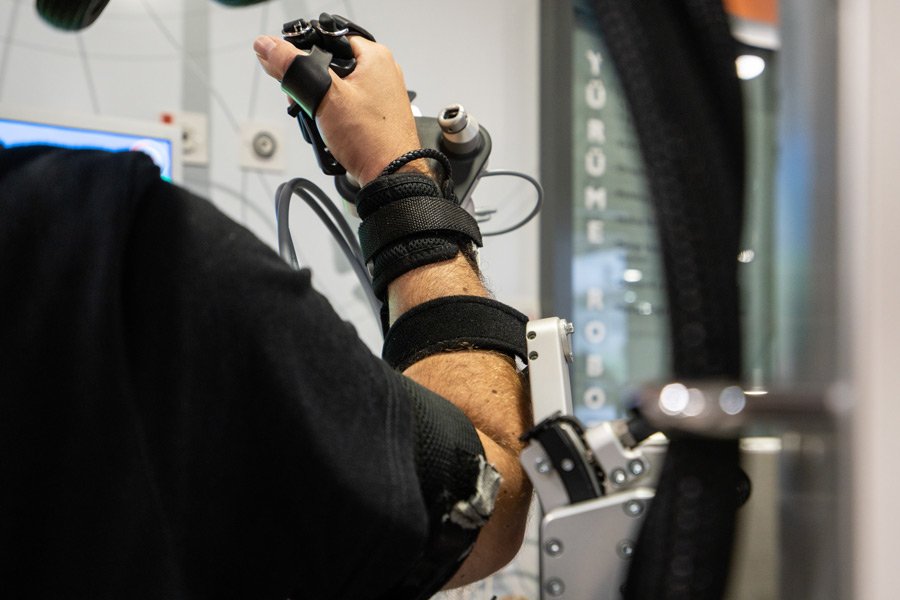 The hand-arm robot, which is used for restoring the hand and arm functions in diseases affecting the brain and nervous system and leading to the stroke of the hand and arm, has various advantages. Thanks to this robot, the movements of physical therapy can be administered continuously and accurately. As with the traditional method, a large number of repetitions of the movements are possible since the therapist does not get exhausted. With virtual reality applications, hand exercises can be designed according to the condition and requirements of the patient. The improvement obtained in each session can be measured by the device. Since the physical workload on the physiotherapist is reduced, the attention to fine points can be increased.
You can find more information about Armeo Power with Manova hand-arm robot in the related section.
2. Walking Robot | Lokomat Pro with Free D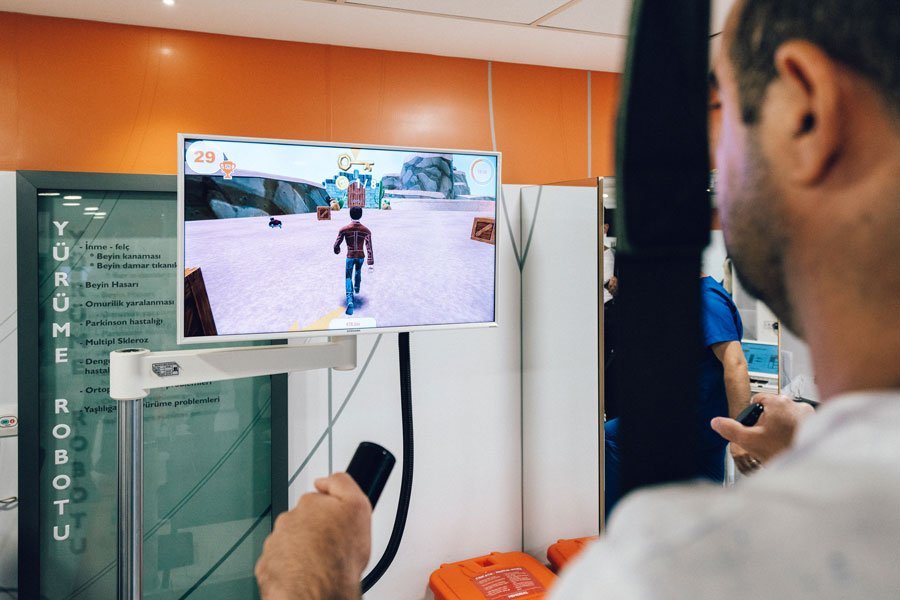 With the Hocoma Lokomat Pro with Free D walking robot, normal walking can be achieved in the patient from the earliest period. With the dynamic body weight support and the robotic exoskeleton, which adapts to the patient, the patient can be lifted up, and the movements closest to natural walking can be performed even in the case of severe neurological damage. Pressures are reflected naturally on the sole of the foot, the ankle-knee-hip alignment is maintained in accordance with the normal position. The angles of the hip and knee joint movements can be adjusted by the therapist according to the specific requirements of the patient. Sensors on the device record all the movements performed.
You can find more information about Hocoma Lokomat Pro with Free D walking robot in the related section.
3. Robotic Bed Walking System | Erigo Pro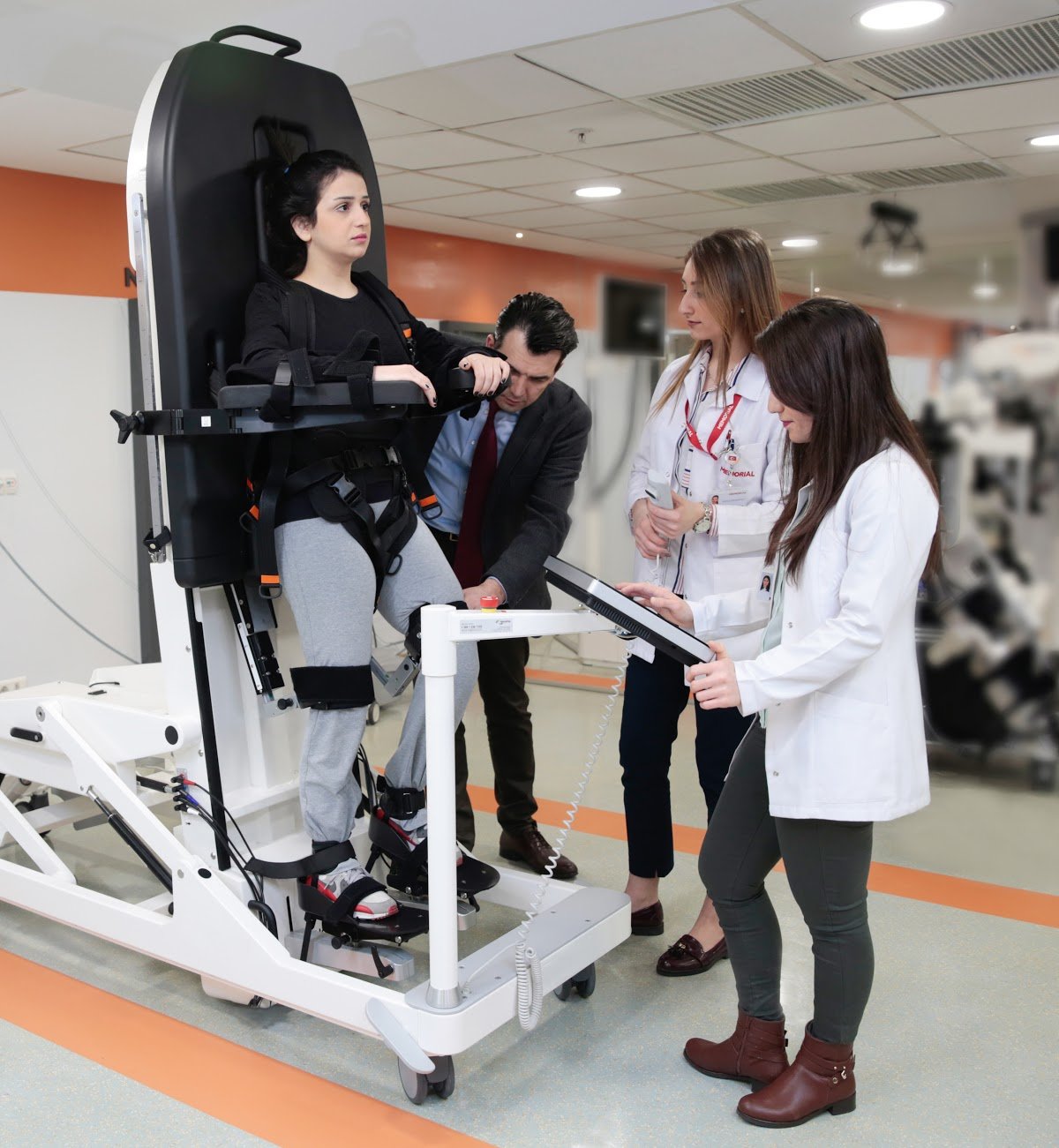 In neurological problems such as stroke (paralysis), brain injury and spinal cord injury, patients may be bedridden during the first periods. Lying in bed for a few weeks leads to the weakening of the heart and circulatory system, loss of muscles and bones, and decreased bowel movements. Due to all these reasons, it can increase the risk of depression. In order to avoid these problems, the individual should be up, and movement should start as soon as possible. Robotic bed technology has been developed in recent years to overcome the difficulties experienced withTilt Table and Manual Joint Range of Motion exercises, which are the traditional methods of physical therapy.
The Erigo Pro Robotic Bed technology enables the effective initiation of physical therapy in the early period in severe neurological problems, which impair the standing and walking ability of the patient, in order to prevent patients from being paralyzed after stroke (paralysis), brain injury and brain tumor surgery. It brings the patient to an upright position, and allows the patient to move the legs. Although it is more difficult for patients, who have become bedridden, to start their movements in the early stages, the patient can be safely brought to an upright position with the Erigo Pro Robotic Bed device, which is specially produced for this period, and the intense movements of foot can be started.
You can find more information about Hocoma Erigo Pro Robotic Bed Walking System in the related section.
3.1 Advantages of Robotic Mattress
Erigo Pro Robotik Yatak teknolojisi inme (felç), beyin hasarı, beyin tümörü ameliyatı sonrası süreçte hastaların felç kalmasını önlemek amacıyla kişinin ayakta durma ve yürüme becerisini bozan ağır nörolojik sorunlarda erken dönemde Fizik Tedavinin etkili şekilde başlatılmasını sağlar. Hastayı hem dik konuma getirir hem bu sırada bacaklarını hareket ettirebilmesini sağlar. Yatağa bağımlı hale gelmiş hastaların hareketlere başlaması erken dönemlerde daha zor olsa da bu döneme özel üretilmiş Erigo Pro Robotik Yatak cihazı ile hasta güvenli bir şekilde dik konuma getirilebilir ve böylece yoğun ayak hareketlerine başlanabilir.
Hocoma Erigo Pro Robotik Yatak yürüme sistemi hakkında daha fazla bilgiye ilgili bölümden ulaşabilirsiniz.
Isokinetic testing and exercise system - Cybex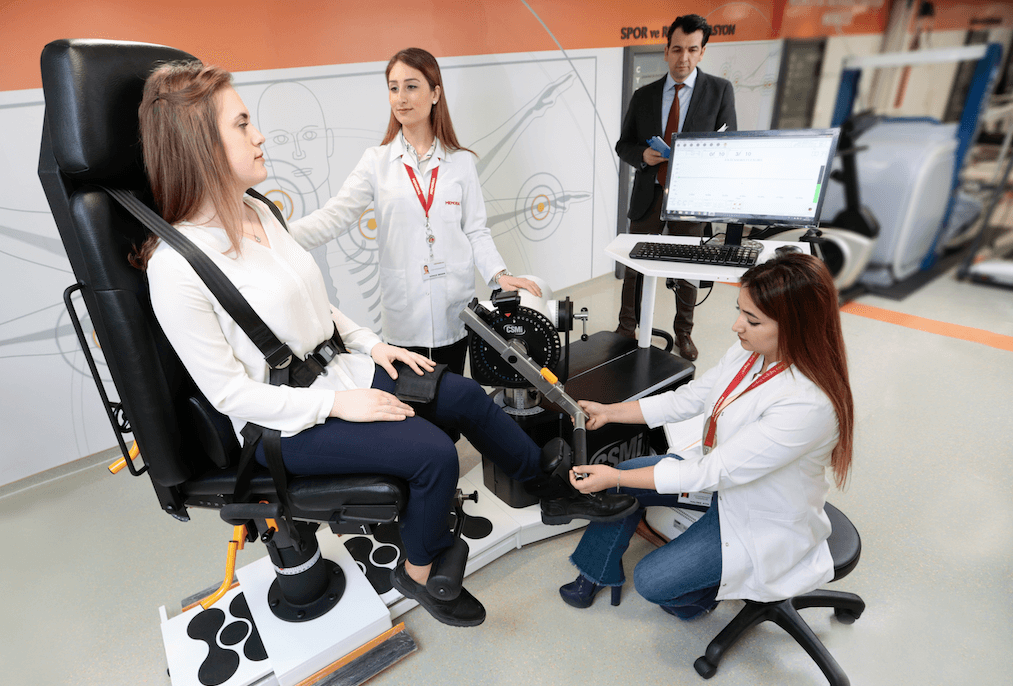 Kelime anlamı olarak izokinetik "eşit hareket" demektir. Egzersiz ve kas kasılması bağlamında ise sabit açısal hızda gerçekleştirilen kas kasılması izokinetik egzersizdir. Kliniğimizde bulunan Cybex test ve egzersiz sistemi de izokinetik egzersizler için özel olarak geliştirilmiş bir robottur.
Diz, omuz, dirsek, el bileği, kalça, ayak bileği eklemleri ve gövde kaslarının performansının test edilmesi ve arttırılmasında izokinetik sistemler kullanılmaktadır. Sporcular performanslarını arttırmak için izokinetik egzersizleri sıklıkla kullanır. Diz kireçlenmesi veya ön çapraz bağ zedelenmesi gibi durumlarda da izokinetik egzersizler yararlıdır.
4.1 Cybex isokinetic test and exercise system advantages
Kas performansı nesnel bir şekilde ölçülür. Sağ ve sol taraf farkları, zıt hareket yaptıran kasların kuvveti ve dayanıklılığı belirlenebilir. Net ölçüm yapılması ve bunun sayı ve grafiklerle dökümü kişinin motivasyonunu arttırır.
Kasın kuvvetine eşit direnç sağlandığı için haddinden fazla zorlanma ve yaralanma ihtimali çok azdır.
Hareketin tüm açısal derecelerinde kasa uygun yük verildiği için çok verimli bir egzersiz şeklidir.
İzokinetik egzersiz hasta performansına uyum sağlar. Kişi maksimum güç veremezse cihaz direnci o ölçüde düşürür. Böylece ağrı ve yorgunluk nedeniyle egzersizin yarım bırakılma ihtimali azalır.
Kasların hangi açı derecesinde en zayıf olduğu belirlenip o kısımda egzersiz yoğunlaştırılabilir.
For appointments or questions, fill in the form below and we will contact you as soon as possible.